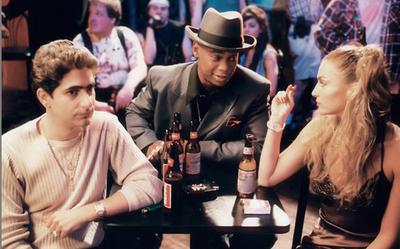 Every writer has personal favorite stories. And for me, there are plenty I wish could somehow be wiped from the long memory of the internet.
This story about music on The Sopranos, which I originally wrote for Green Magazine, is one of my pets. It's not particularly impressive prose. And although there is some very good reporting in it and even a "reveal," that's not it, either. It's just that I loved The Sopranos so deeply and felt proud to be able to contribute to the body of knowledge surrounding the show in a meaningful way.
We are approaching the 20th Anniversary of the debut of The Sopranos. Back then, unearthing the performer of the key song in the "A Hit Is a Hit" episode in Season 1—and talking to the creators—was kind of a thing. You've got to remember that in the late 90s, not every fact was instantly Googleable. The message boards were all buzzing with people wondering about the haunting and beautiful voice behind the stunning "Nobody loves me but you" chorus as Chrissy smokes on a pool table. (Here's a nice example of many that pointed to my story.) The woman who sang the song actually lived near me in New Jersey, which I discovered after I found her. But she was extremely shy (especially for a performer) and had no real interest in receiving credit or attention from all these superfans who were trying to identify her.
It annoys me that Bankrate sold the Greenmagazine.com URL (to John Deere!). I view it as somewhat Stalinist that a couple years of daily journalism have simply been replaced by stories about tractors. This story has been lost to me for almost 20 years—it originally ran on November 22, 1999—and only returned when I had to get an old hard drive recovered for other reasons. Happy to see that it still holds up, long after all six season of The Sopranos have concluded.