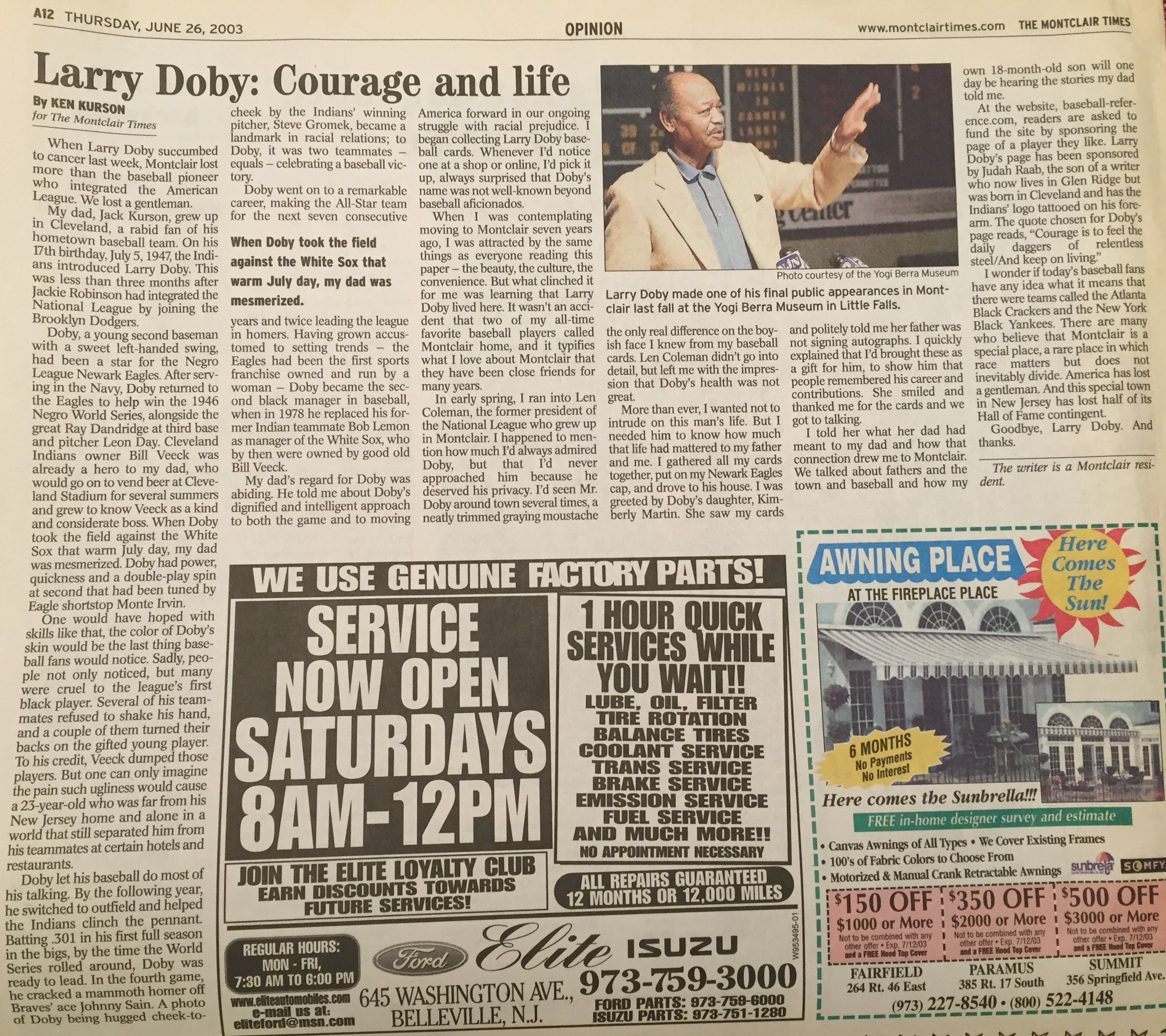 My dad was a proud Clevelander, born and raised. He loved the cultural opportunities and the gritty toughness. (Lots of people mention Lake Erie lighting fire from all the pollution but my dad told the story that it was actually the Cuyahoga River and it really did light on fire).
My dad especially loved the Cleveland Indians. Guys like Bob Lemon and Lou Boudreau were very vivid and rich characters in his life. His favorite player was Larry Doby, the first black American Leaguer and by wonderful coincidence, later my neighbor in Montclair, NJ.
My dad had worked for the Indians as a beer vendor and deeply respected owner Bill Veeck, and he was proud that Larry Doby had played for the Indians. In fact, Doby had been a huge NJ sports star before playing in the major leagues, including a stint with the Newark Eagles, along with Hall of Famer Monte Irvin. Irvin grew up in Orange, NJ, one town over from where I live now. He set the state javelin record, but all he wanted to do was become a dentist. It is unreal to me that Irvin was already a star in the Negro Leagues and interrupted his career to serve in World War II. He fought in the Battle of the Bulge, which gave him permanent ringing in the ears. Then when he got back to America, he went right back to the Negro Leagues. Irvin did have an offer from Branch Rickey, the Dodgers executive who had signed Jackie Robinson. But the Eagles owner, Effa Manley (the first woman inducted into the Baseball Hall of Fame), didn't want to let Irvin go without the team being paid.
When I moved to Montclair in 1996, Larry Doby was my neighbor and I got to meet his daughter a bunch of times. When he died in 2003, I gave her a bunch of the baseball cards of his that I'd collected over the years.
My dad died in 1995, a month before the Indians finally made it back to the World Series and a year before I moved near Larry Doby, both of which he would have loved like crazy. Man, I miss that guy. I come from a family of gifted storytellers but I think just about anyone who knew my dad would agree he was the best of the bunch. When Doby died in 2003, I wrote the obituary above for the local paper, The Montclair Times. It seems quaint that a local newspaper has this kind of space for an obit, but I'm grateful they did. In the photo below, taken at Yogi Berra Stadium just a few months before Doby died, I'm wearing a Newark Eagles cap. (The woman I'm speaking to in the photo is the late Marion Crecco, a former Assemblywoman from Verona, NJ.)