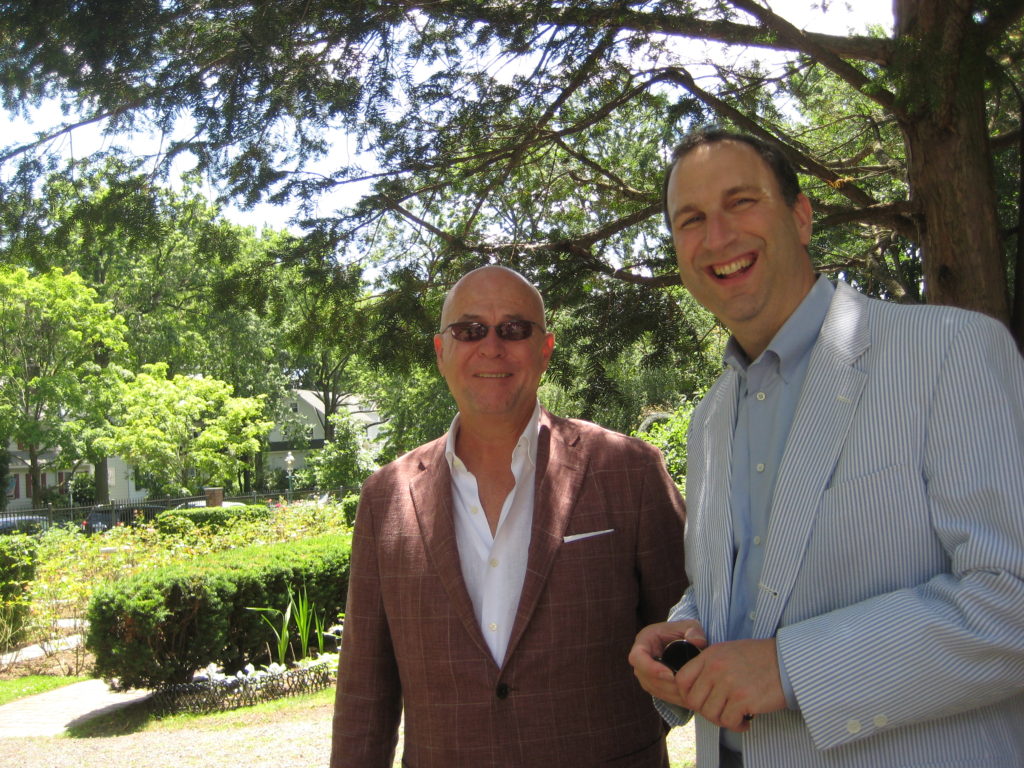 In 1995, David Granger was a star features editor at GQ. Art Cooper was the editor in chief but it was Granger who was delivering the sensitive-but-muscular-but-also-ambitious stories that were building a brand so strong that readers could kind of tell which GQ features Granger had edited. He had nurtured an all-star team of great writers and they were fanatically loyal to Granger personally.
When I was starting to get some buzz as a personal finance writer at Worth, another GQ editor, Ilena Silverman, called to ask if I wanted to write a back-page humor column for GQ. I knew Ilena a little bit from when I interned at Harper's and she was a feature editor there. She managed our softball team and gave me great notes on the stories I was starting to write about comics for free weeklies. We weren't really friends and she was way above my station — even more so when she moved from Harper's to GQ — so I was surprised she thought of me for the GQ thing. Especially because I'm not a humorist at all. I don't use irony, and although I love comedy and have written tons of jokes for people at all levels, I'm not particularly funny myself.
I pitched her a bunch of ideas and they were all terrible. Ilena told me, "I showed your terrible ideas to my colleague here, David Granger. He agreed they're terrible but wants to meet you." She set up a lunch for the three of us at a fancy Japanese restaurant. That turned out to be a key meeting in my life.
When David was hired in 1997 to lead Esquire — to save its life — he did something I thought was both ruthless and totally necessary. He fired everyone. Every single person at Esquire, except Mark Warren, was let go, on the theory that a magazine that had fallen so far (the January 1997 issue sold just 13 pages of ads) needed a complete overhaul. He brought with him from GQ a core of very strong staffers: Lisa Hintelmann, Adrienne Miller, Scott Omelianuk. Amid the exodus, Cooper fought back. The great Tom Junod, who'd won a couple National Magazine Award for GQ for stories Granger edited, was offered $300,000 a year to remain — a staggering sum. He turned it down. He was joined by a '27 Yankees list of contract writers — Scott Raab (one of the great profile writers in magazine history), Mike Sager, Mike Paterniti. Then he added a ton of people, including David Eggers and Amanda Davis. And … me. I was hired to be the financial columnist and editor, for $70,000 a year, with my own section — dutifully called "Green," of course. It ran most every month for the next 17 years.
For the first couple years, I kept an office at Esquire on 55th St, right across from the Soup Nazi before that was a known thing. In addition to my section, I would go to all the meetings where we'd debate who should be on the list of 100 Most Important People or Sexiest Whatever and I'd write about stuff other than money for all parts of the book.
Lisa Hintelmann's trajectory was a really good illustration of what made Granger so special as a leader. He wasn't just the single best editor we had — which is amazing when the boss can do your job better than you can, the very definition of leadership. But he was also just a really good boss.
At GQ, Lisa had been essentially relegated to the role of booking celebrities for covers and features. She'd come from a film publicity background and worked for legendary Hollywood publicist Pat Kingsley from PMK*BNC. Celebrity wrangling is hard as hell, with stars' demands during the magazine wars of the 90s reaching the absurd. All men's magazines are bound to be boys' clubs to some degree, I guess. Lisa had felt under-appreciated in the atmosphere at GQ. David saw in Lisa talent beyond the challenging job of luring celebs. She had a real seat at the table when it came to assigning stories, including getting me to write stories on people like Oliver Platt, the director Kevin Smith, and the producer Bob Simonds.
Another way in which Granger was unusual is the way he valued writers as human beings. Throughout magazine publishing, editors are regarded as far more important than writers. It's really hard to get a staff job as an editor, whereas there are a million writers. And writers almost all work from home so many magazines have a culture of rolling their eyes at the pain in the ass writers who they see as prima donnas about their copy. Granger wasn't like that. One editor I had during my long tenure at Esquire came in and wanted to make his presence felt. He sought to bring all these idiosyncratic writers to heel and was heavy-handed about it. The writers started complaining about him, but we knew that at most places the response would have been "tough luck, you're easily replaced." At Granger's Esquire, that editor was fired.
As my own ventures took off, I stopped coming in and being part of the broader magazine discussion, but I kept writing the Green column and kept in close touch with David Granger and all the editors. In a great story about Granger's tenure, my Esquire colleague Andy Ward (now editor in chief of Random House) made a point about how Granger's habit of being stingy with praise was effective at getting those who valued his approval to work that much harder. I remember when I went to Vegas to cover the opening of the Bellagio for Esquire and I finagled the only one-on-one exclusive with Steve Wynn that he gave any of the hundred-plus journalists. I wrote a breathless email titled "Scoop Kurson nabs Wynn" to say that I needed extra space to do the story justice. Granger wrote back, "Talk to me about what you're gonna do with this. Call me or come in or something. This is great. I've said it before and I'll say it again: Kurson is the man." I treasured that.
I accepted a position as editor in chief of the Observer in mid 2012 and Granger was one of the first people I contacted for advice. We had lunch a few times and he came in to speak to our staff as part of my program to bring in influential people to talk to the staff.
Then in early 2016, Granger was let go.
In Kara Smoke's story in the Observer about the change, I wanted to plant the flag for how much he'd meant to the industry and to me personally.
"David Granger is one of the finest editors America has ever produced and he's got a closet full of AMA hardware to prove it. He also happens to be an exceptionally decent human being. It's hard to be both," said Ken Kurson, the editor of the Observer and one of dozens of editors high up on the city's mastheads who learned at Mr. Granger's knee.
"This is a guy who discovered, nurtured, befriended, defended more great writers than just about anyone—there's a good reason 'Granger's guys' are willing to take a bullet for him. Because he's a man. Granger would hold his own against Andre Agassi in the morning, blow up your story at lunch with one suggestion that you were ashamed not to have thought of yourself, go around in 80 at Sleepy Hollow with a bunch of ad reps in the afternoon, recommend some drink you never heard of in the evening and then the next day you'd get an adorbs stool delivered to your house with your newborn's name carved in block letters. Who knows what Hearst or David had in mind in making this change as our industry grasps to establish a place for high-value writing at a time when writing is not valued. But I hope in making this decision, Hearst remembers what I remember—Esquire was like a leaflet in 1997 when he took over and a crappy-looking, stupid leaflet at that. Granger brought a murderer's row with him from GQ (Scott Raab, Tom Junod, Mike Sager) and recruited a crop of new writers (Dave Eggers, Amanda Davis) and put out a magazine that its owners could both love and stuff full of ads for Armani suits and Cadillac Escalades. The David Granger era of Esquire will be remembered for its excellence, its passion and its success—that's a proud legacy for a proud man."
Amid the incredible outpouring of love that materialized in the wake of Granger's firing — and "wake" is right because it really did represent some sort of final capitulation for the kind of quality writing that's expensive and worthwhile to produce — he sent me an email. "Thanks for the story about my departure today. It set the tone."
A couple months later, after 234 issues, he'd reached the end of an extraordinary run. Along with dozens of others, I was asked to make a video saying goodbye; we all said the same foul-mouthed last line.