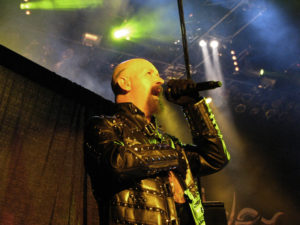 If you think I'll sit around as the world goes by…
One of the hardest things in all music is to write a heavy metal pop hit. The genres are unforgiving of each other, success in one makes fans of the other suspicious. So if you think of all the Judas Priest songs you can probably hum — even if you're not really a metal fan — it makes their 4+ decades in leather all the more impressive. "Living After Midnight." "Breaking the Law" (used with wonderfulness in the movie Adventureland). "Painkiller." And of course "You've Got Another Thing Coming."
That was the closest Priest ever came to having a hit record. And it topped out at #67 on the Hot 100. They've never made it into the Rock and Roll Hall of Fame. Rolling Stone gave their first three albums one star and recommended the band "for lovers of stolen Led Zeppelin riffs only."
So how did they sell over 50 million albums?
Rob Halford's funny, honest and utterly charming memoir, Confess, goes a long way to explaining that gap between critical and popular acclaim on the one hand and the unbreakable conn
ection with arenas full of devoted fans on the other. Along the way, Halford's frank assessment of his sexuality, and the possible damage it might wreak on that connection with the fans, is confronted with real insight and depth. I loved this book. I reviewed it for Rock and Roll Globe and I really cannot recommend it highly enough.